The Premier League 2020/2021: The Restart of Project Restart
On Target.
These are extraordinary times.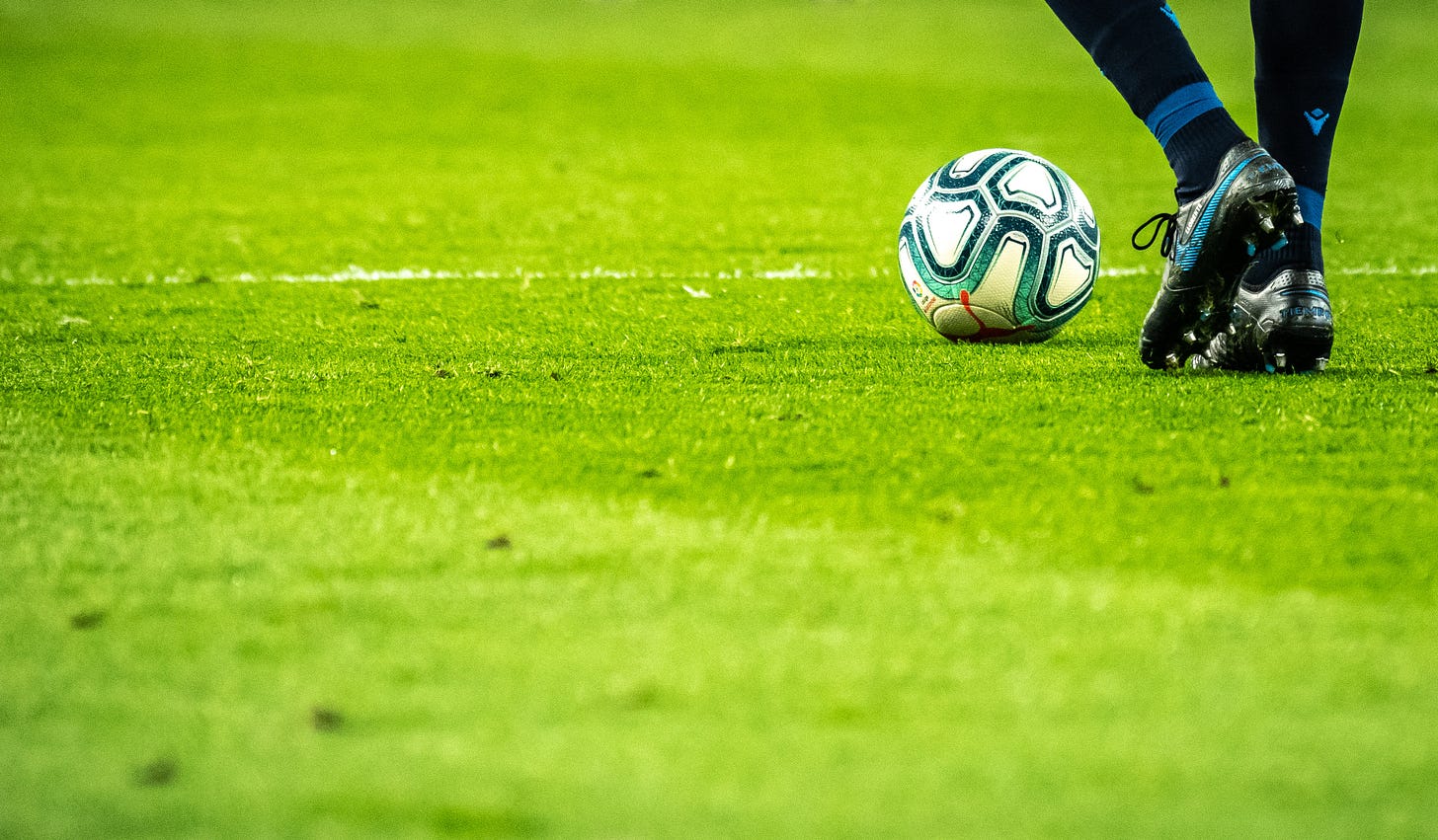 The Beautiful Game gives us drama, joy, sadness, resentment, and jubilation; emotions that seem to have gone missing during the pandemic. The 90 Minutes of the unknown reconnect us to these things that make us human. A mere game with a ball becomes a journey that has us screaming into a black box in the hopes that our emotions can be relayed across continents. A loyalty and fandom unlike any other. Where does this reconnection start?
We begin the season without the chills of You'll Never Walk Alone being sung at the KOP.
No bellowing of Come on you Spurs.
No start of We Love United We Do from the Sir Alex Ferguson Stand.
No smell of sausages and onions on the grill.
No selling of gameday magazines and scarves.
But where do we connect?
The excitement of your new club-record signing getting off to a flying start.
The dream of a cup final, or a European competition spot instead of a relegation battle.
The joy of seeing that highly touted academy player builds on his maiden campaign.
The continuation of a generational talent in one of the most competitive leagues in the world.
The everlasting hope that this year could be the year.
---
2020/2021 Season outlook
Looking back at Project restart, it feels more like a guineapig test for this upcoming season that it did a continuation of the 2019 campaign. Now we know what to expect as fans. I think the players have a better understanding of how to draw up and keep motivated through a game without the fans in attendance. In a way, we're restarting Project Restart but with experience on hand.
So where do we stand at the end of the 2019/2020 season?
Liverpool won it's first Premier League title, since the rebrand to the Premier League. Man City came up short in a title challenge against Liverpool. Manchester United and Chelsea scrapped into the top 4 on the final day of the season. Leicester City and Spurs just missed out on Champions League spots and had to settle for the Europa League. Wolves missed out on any European competition despite finishing level on points with Spurs. Aston Villa survived the relegation battle by a single point on the final day of the season. The biggest storyline may not even be from the Premier League as well. It could even be argued Leeds United and their promotion back to the top flight after 16 years looking up was the most extraordinary achievement.
So what are we looking at for the 2020/2021 season?
The season just started this past weekend with Match Day 1 for most clubs. With the transfer window open for a mere 2 months this year, due to the delay of Project Restart and the quick turnaround to the new season, clubs will need to have finished their business fairly soon. No preseason and lack of funds with no matchday revenue are both factors in clubs potentially sticking by their squads without much turnover… or so we thought. The chart below shows the net transfer spending for Premier League clubs in the 2019-2020, which includes the January transfer window.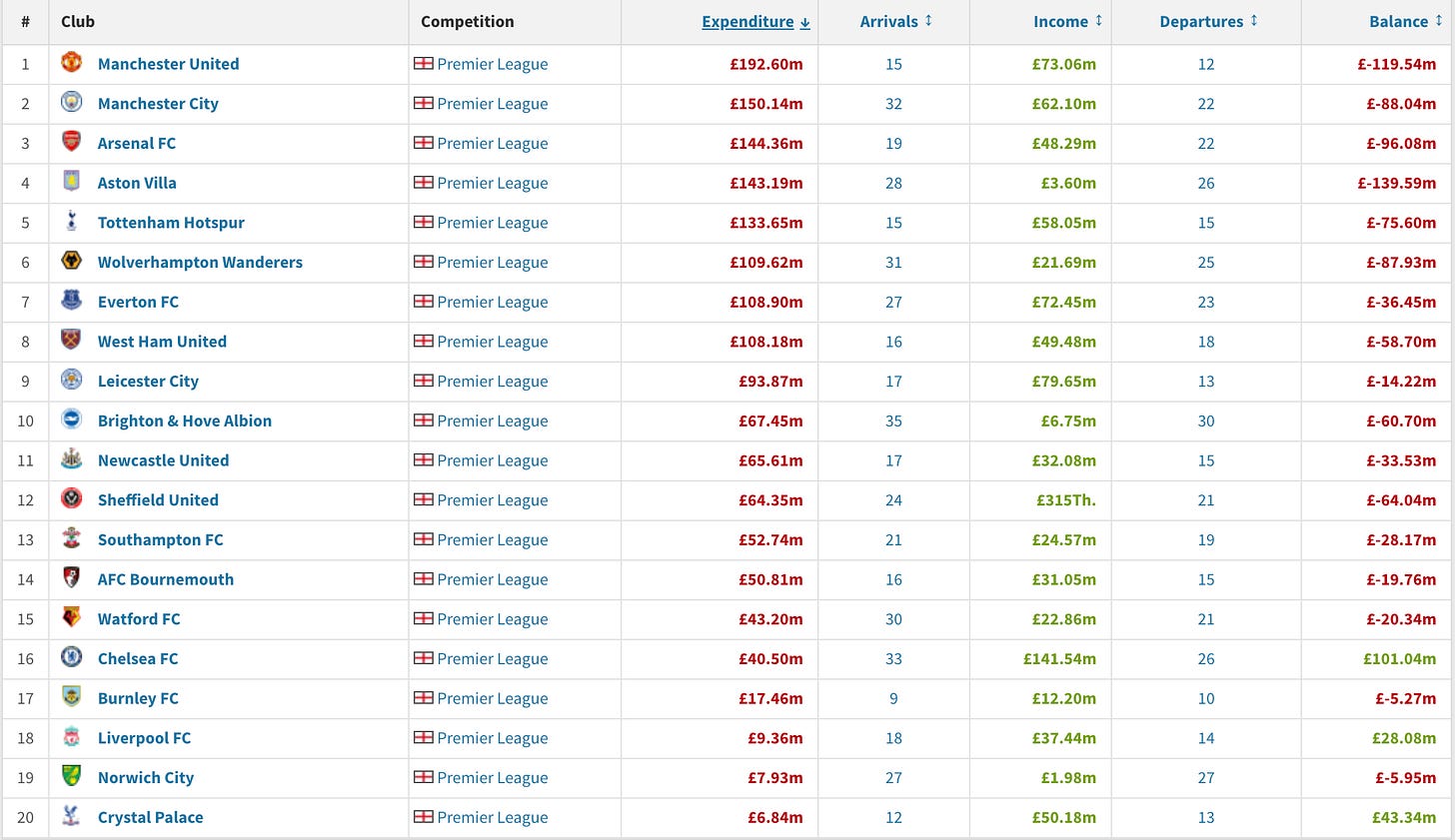 Now let's take a look at the transfer window so far for the 2020-2021 season (still has over a month to go and a January transfer window).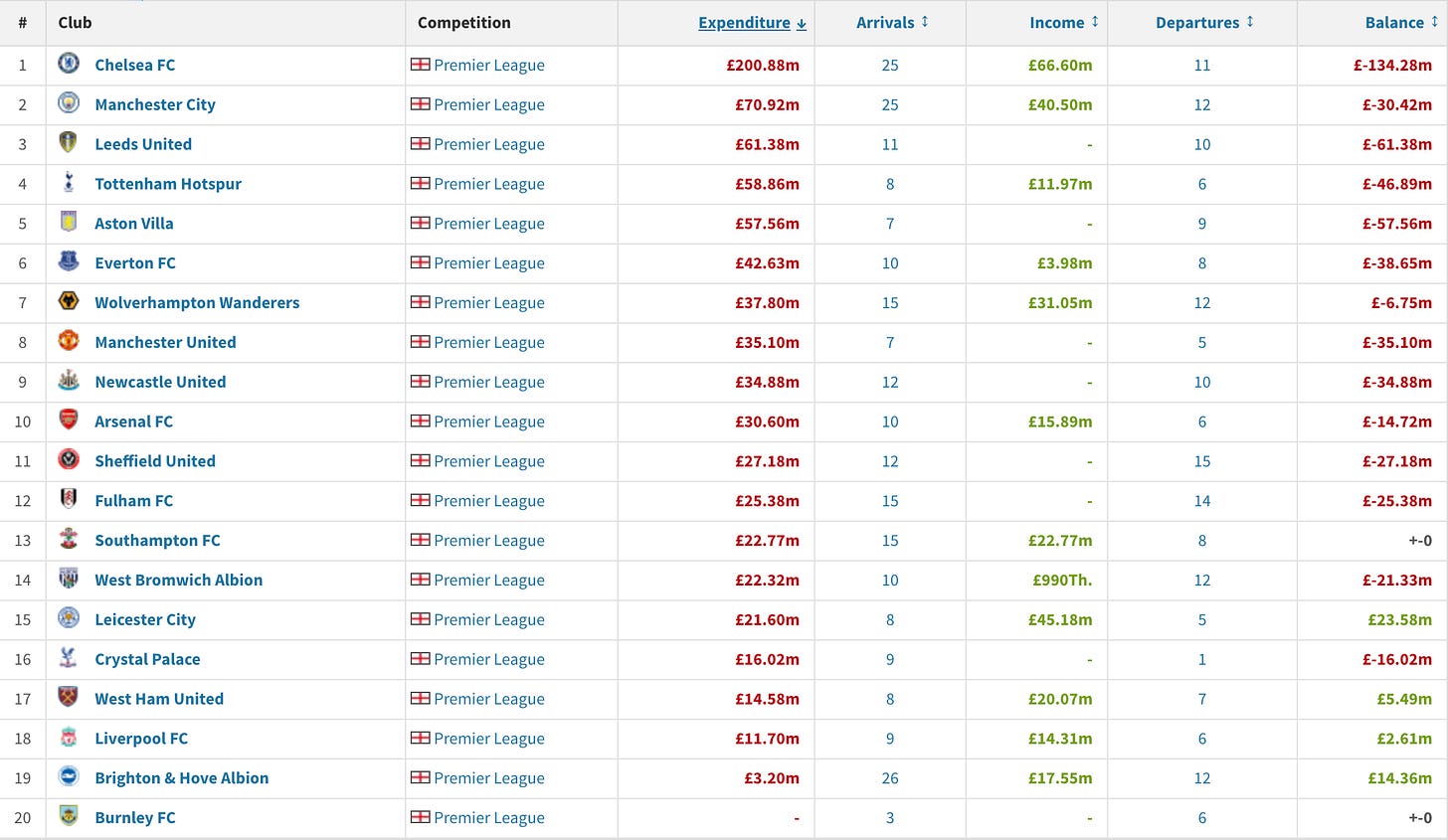 It's actually quite surprising how much teams have spent so far in just over a month of the market being open. The incoming cash from player sales have not been as high as prior years, yet teams are spending on player expenditures or incoming transfers. Two biggest surprises and spenders have various reasons behind their activity, but the amount is also surprising.
Chelsea were expected to spend this summer after being not being able to spend last summer with a transfer ban, but the amount they have spent so far is staggering. They opened up the checkbook to allow Lampard to get the players he needed and so far have spent over £200 million. Hakim Ziyech was signed before the season was over in a pre-agreement. Timo Werner was a longterm Liverpool target and was expected to sign with them until Chelsea swooped in to add more firepower to their attacking line. Kai Havertz became their most expensive outfield player signing. It also hasn't stopped, they've gone out to sign a left-back in Leicester City player Ben Chilwell, two center-backs on a free transfer in Malang Sarr and Thiago Silva, and reports suggest they're close to signing Rennes goalkeeper Edouard Mendy.
Leeds have outspent the likes of Tottenham, Liverpool, Manchester United, and Arsenal, in their race to make sure they are not in a relegation battle this season. Their biggest spend so far was a club record, signing Rodrigo from Valencia. They have also added winger Helder Costa from Wolverhampton, and center back Robin Koch from SC Freiburg. They've spent a total of £61 million, compared to 2019's promoted sides in Aston Villa that spent £143.19 million, Sheffield United with £64.35 million, and Norwich City with £7.93 million.
The two clubs spent for drastically different reasons but sit in the top 3 of expenditures for this transfer window. After both teams played their first game it's clear that they bought smart and for the needs of their goals and expectations.
Chelsea took care of business against Brighton, but without a single goal from any of their attacking debutants. Timo Werner drew a penalty early, that Captain Jorginho calm hop, skip, and jumped into the back of the net. Right-back Reece James and center-back Kurt Zouma scored the other goals. Sadly, Christian Pulisic did not recover in time from his hamstring injury to end Project Restart to participate in the game. On the other hand, Leeds United came out attacking and cohesive against Liverpool. Marcelo Bielsa gave Koch and Costa got their debuts for the game with Rodrigo coming on as a sub. Leeds gave Klopp's men as much as they could handle. A Rodrigo penalty on the 88th minute gave the reigning champions their lead to see out the game 4-3. Leeds might have lost the game but they sent a message to the league that they are ready to play their brand of football under Bielsa regardless of the opponent. That said, Liverpool will still be the team the top team to beat and even more so with a perfect signing in Thiago to shore up their midfield rotation.
With Match Day 2 on the horizon and 4 teams getting their first game of the season in, the start of the premier league season is in full swing. Get ready for the fireworks.
---
The First Team Eleven will be a weekly newsletter of the Premier League's Match of the Week with stat analysis, GIFs, video highlights, storylines, players and goals of the week.